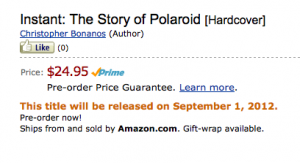 The book's page is up on Amazon. No cover yet, No synopsis yet; the page is rudimentary, and will be fleshed out later. But it has an ISBN, and the page appears to have a preorder button, which means Someone Can Theoretically Buy It.
Buy-it-here link will be added to Polaroidland in the next few weeks, and I'll be setting up an arrangement where, if you buy it through this site, you get your book signed. Details to be posted shortly.
LEGALITIES

This site is not connected with or endorsed by Polaroid or PLR IP Holdings, owners of the Polaroid trademark.