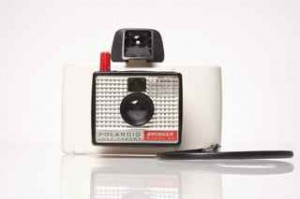 The Polaroid Swinger was introduced to the world in July 1965, and two recent newspaper stories marked the anniversary in fine form. One is from the Boston Globe, written by your Polaroidland host. It's visible here, on BetaBoston, and (I'm told; haven't seen it yet) it's running in the business section of today's print edition. Analog printing, baby! Nothing like it.
And about two weeks back, the New York Times ran a similarly nice post about the Swinger that draws heavily on, and name-checks, INSTANT. This one's by the presidential biographer and historian Michael Beschloss, apparently taking a break from FDR and JFK to slum it with Dr. Land and me. I am delighted.
It's almost alive! Still! And it would be, if only someone could make some Type 20 film.
LEGALITIES

This site is not connected with or endorsed by Polaroid or PLR IP Holdings, owners of the Polaroid trademark.