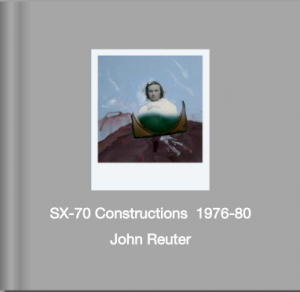 John Reuter, of the 20×24 Studio, has just published a small, nicely printed book of his SX-70 work from the late 1970s. The photos are unique pieces, made by separating the component layers of the film packet, then painting and otherwise messing with them from within. A lot of people made pretty nice manipulated Polaroids, but most of their results are static; these are not. You can spiral down into them as you spend a long time looking. I bought it the other day, and keep dipping back in. Highly recommended. You can get your copy here.
This is also an excuse to say something good about Blurb, the DIY platform on which he published it. Good paper, good printing, nicely done.
LEGALITIES

This site is not connected with or endorsed by Polaroid or PLR IP Holdings, owners of the Polaroid trademark.