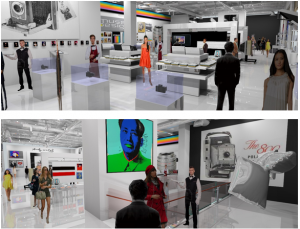 Polaroid itself, as I understand it, kept a small museum display of artifacts and prototypes on view for awhile. I think it was in the Main Street/Osborn Street headquarters complex somewhere. But really, the only great visible display of Polaroidiana in our time has been in the lobby of the truly wonderful MIT Museum, which inherited the company's museum pieces after the final bankruptcy, and has begun the long process of cataloguing and conserving it all. In the next couple of years, MIT will be doing a big show of this stuff, and I will certainly be there on opening day. It may even include a few things that were formerly cluttering up my apartment, because I recently donated some of the research material from my book—including a bound set of Polaroid Newsletters—to the museum. They got a pile of rarities and curios; I got back a couple of shelves in our closet, and the knowledge that the stuff would be preserved and kept safe.
But before MIT gets its show up, the enthusiastic folks at Polaroid Fotobar, the startup we discussed briefly here about a year ago, are looking to open an exhibit of their own. The flagship Fotobar store is planned for the LINQ complex on the Las Vegas strip, and it will incorporate a very large historical exhibit devoted to the history of the company and its pictures. (Here's the Indiegogo page where the company is doing its fundraising.) Its executives are borrowing a bunch of cool stuff from MIT, and also drawing upon the expertise of Mary-Kay Lombino, who curated the Vassar College Museum's "The Polaroid Years" exhibit and wrote its companion volume. So they have the right people involved, too, and access to the good stuff. Extremely promising.
Full disclosure: I too am doing a little bit of paid consulting work on this project, so I am hardly an unbiased observer. Either way, though, this is a surprisingly, and pleasingly, ambitious project. The company's putting a lot of resources into the museum space, and is really looking to show a great portrait (heh) of the length and breadth of instant-photo culture. Couldn't be happier about this.
LEGALITIES

This site is not connected with or endorsed by Polaroid or PLR IP Holdings, owners of the Polaroid trademark.