This makes me chuckle every time I see it. A book by a guy who never got out of the foreign-language gate was published last week in Taiwan, translated into Mandarin. (You can order here, if you can read it.)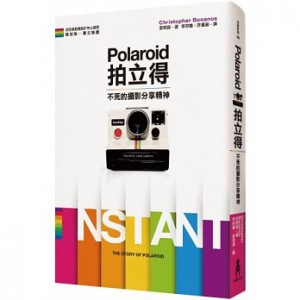 Needless to say, I have no idea how the translation reads. But Polaroid alumnus Bill Warriner, who speaks Mandarin, offered this finely observed analysis:
You might be mildly amused by some scholarly footnotes about the cover. There are ironies in the choice of these specific characters. I checked McGraw-Hill's 2010 Chinese dictionary by Quanyu Huang, plus my beloved dog-eared 1931 dictionary by R. H. Mathews, from the China Inland Mission of Shanghai and the Presbyterian Mission Press. It's been with me before I met Cheryl [Bill's wife] and it's those old missionaries who didn't miss a trick. McGraw-Hill, feh.

I never noticed the Chinese transliteration of the name Polaroid before. These 3 characters are Romanized as Pai-li-de, pronounced more like "Pie," "lee," and "duh" than the People's Republic spelling which is a royal pain in the behind. They use it in Taiwan, too, by default. The musical tones are an integral part of the name if you like music in your everyday discourse.

The character Pai by itself means to slap, hit, strike a deal, slap the table (in anger), or shoot a photo. So Americans associate photography with guns, whereas the Chinese don't kill you with their cameras, they merely bruise you when they steal your soul. Go figure.

The character li means to erect, to set up, to establish; to exist; upright, vertical; immediately, instantaneously—this is the only element on the cover related to instant photography and it's a phonetic element.

The third character de means to obtain or catch; to be finished or satisfied. The only fun part is that Mathews includes this character as part of the phrases for "to win the lottery," "just what I wanted," and de dao, "to enter Nirvana."

The subtitle is weird, 'cuz literally translated, it means "the not-dead spirit of" a photography system. There's no reference to "instant" here. I wonder why they didn't use your exact word (must be upgrading the branding). But I've always loved the beautiful fifth character in that line (ying), which means a shadow, image or reflection. The Chinese term still used for movies is literally "electric shadows," and I used that title once for a documentary script (that Ted [Voss] paid me to write but we never had time to shoot).

So two of those characters Mathews defines as to receive, to enjoy [benefits]; to present or accept sacrificial offerings. I thought Hey, Phyllis Robinson would approve: It's like opening a present. [Ed. note: See explication below.]

Finally, the last two characters jing-shen, or spirit, also mean magical or miraculous and that's the twist of a good translation. It also means sperm but I won't go there.
LEGALITIES

This site is not connected with or endorsed by Polaroid or PLR IP Holdings, owners of the Polaroid trademark.