Nothing instant about this blog lately—I have let things go for far too long, for which I apologize to my MILLIONS of readers. I don't have much of an excuse, either; the day job plus the in-person book-plugging have been demanding. But I am looking to get back in the rhythm of regular posts, starting with this one.
Spent last weekend in San Francisco, visiting my brother and dropping by three Pola-related events. The first was a real joy: the opening of Susan Mikula's show at the George Lawson Gallery, on Sutter Street. I have expressed fandom about Susan before, here, and for this show of her newest work, a series called "u.X," she asked me to write the catalogue essay. (If you are a Mikula fan or Bonanos completist, you can order it here.) The show looks great on the walls, and if you are able to get to the gallery before October 5, do it. If you can't, well, it's part of a three-city exhibition, with work on view in Los Angeles and Northampton (Mass.), too, so really now, what's your excuse?
The next day brought an event at Photobooth, the little studio/gallery/shop in the Mission district that is devoted to various obsolete photographic technologies. Tintypes, especially, one of which came home with me, and looks like this:
Pores! My god. Anyway, the shop sold a few books, and I met a few instant-photo buffs and had myself a great afternoon. Thanks to Vince, Melissa, Kari, and Annie for the hospitality, and also the Pabst Blue Ribbon.
Two of those enthusiasts, it turned out, have made a rather ambitious effort out of their buff-dom. They're Billy and Bruce, the guys behind Polaroid SF, a project simple in concept but not so simple in execution: a Polaroid photo a day, done well, showing some fresh angle on San Francisco life. Today marks the second anniversary, and thus the end of the second cycle. A snapshot of me (taken outside the Photobooth shop on Valencia Street) was No. 364 this time, which tickles me to no end. And since you're already headed to San Francisco for Susan's show, I am very pleased to say that Polaroid SF is also opening one, showing all 365 of the last year's pictures, for one night only on Friday. You, as a Polaroidland visitor, are expressly invited.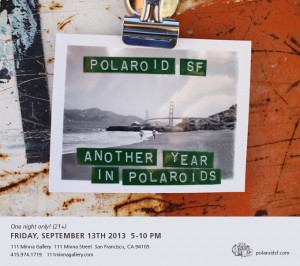 It will surprise nobody who reads this site that I kinda dig the old-style Dymo label.
LEGALITIES

This site is not connected with or endorsed by Polaroid or PLR IP Holdings, owners of the Polaroid trademark.