Here's one Polaroid product you couldn't buy in a photo store: a little box made of maple, sized exactly to hold and sort SX-70 photos.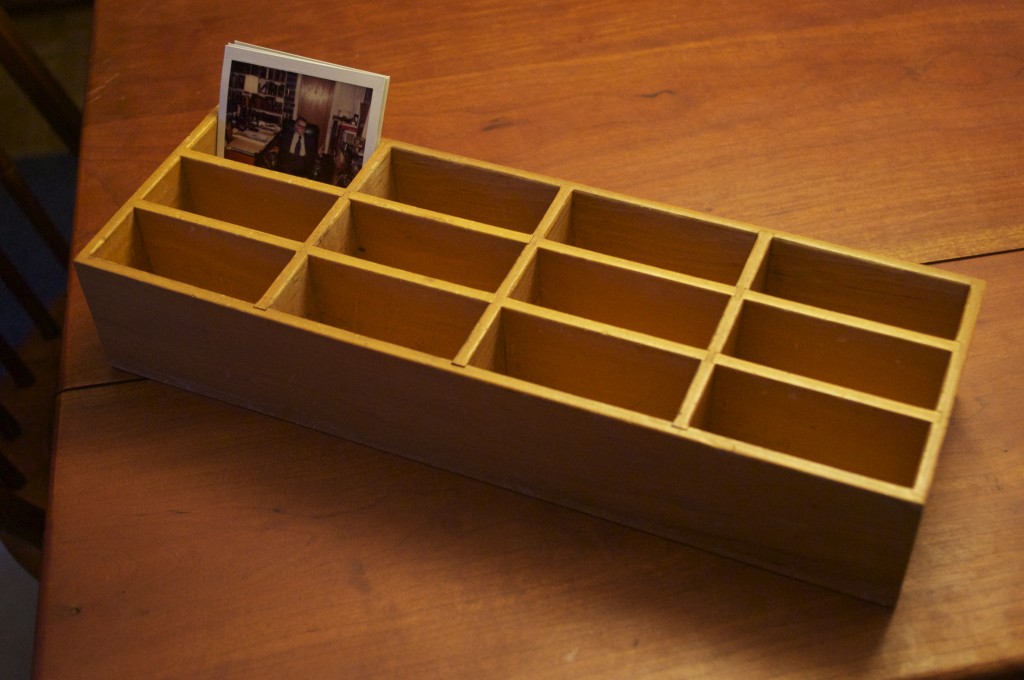 What's special about this, you may ask? Well, it was not produced commercially. Someone (probably in the Polaroid shops) made up a few of them, especially for one consumer:
You can see the box at the bottom right in the photo above, on the low shelves. That's Edwin Land's office in the Osborn Street labs in Cambridge, where he spent most of his work time, and where the intricacies of instant photography were first worked out. Also on view: a Jaeger-LeCoultre Atmos clock, powered solely by atmospheric pressure changes (and what a bit of engineering beauty that is!), some very good stereo equipment, a whole lot of telephones, and (in the tall narrow bookcase behind Land) a great many Polavision film cassettes. That puts this photo between 1977, when Polavision was introduced, and 1982, when Land left the company.
Another photo, this time of the cluttered shelves under the window:
This item passed to Holly Perry, Edwin Land's longtime lab assistants, and she sent it on to me. Needless to say, I am giddy to own it, and grateful for the handoff. Here's Holly, who today is more often known as Sarah Hollis Perry, in the same room. (You can see the file box on the same shelves, behind her.)
She says she doesn't remember who shot the photo of her, but it may have been one of Land's close deputies—a man named Dick Chen—or possibly EHL himself.
I hope she still has the tweed jacket, which is completely back in style. Seriously, you wouldn't think it out of place if you saw it at Barneys this fall.
LEGALITIES

This site is not connected with or endorsed by Polaroid or PLR IP Holdings, owners of the Polaroid trademark.