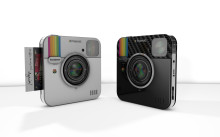 Well, the Instagram camera that started as a joke, then progressed to a design study, is going to be a real thing. Socialmatic has made a deal with a third-party manufacturer to produce it, somewhere out in the great Far East parts bin, and has teamed up with Polaroid itself for the all-important branding. I'm guessing that they'll make the thing with the Zink thermal head from the Polaroid GL10 printer, which is pretty good. It'll feed directly to the various ways we all share photos: Instagram, Facebook, Twitter, e-mail.
I am very surprised that it's got this far–after all, the fact that you don't have to carry a camera, just your phone, is largely responsible for the social-networking-photography boom.  I'm also a little concerned that they're looking to cheap out on the actual camera part of this camera—I don't see anything in the design studies that hints at a real telephoto zoom or an SLR viewfinder, either of which would make it vastly more interesting than a point-and-shoot would be.
That said, do I want to try one out? Of course. Do I think it'll be a major Christmas gift in 2014, especially from parents who don't entirely grasp their kids' digital world but remember Polaroid? Yes, yes I do.
LEGALITIES

This site is not connected with or endorsed by Polaroid or PLR IP Holdings, owners of the Polaroid trademark.