Apologies for vanishing, these past couple of weeks: busy season at work, plus some outside jobs and lots of bookselling going on. A short roundup:
• The Paper of Record makes our existence official: we're featured, at some length, on the New York Times's Lens blog.
• Last Sunday's Washington Post business section features a longish story I wrote about the lessons Eastman Kodak can take from its predecessor in bankruptcy.
• The interview with WNYC's Leonard Lopate Show finally happened, after being deferred a week or so by Hurricane Sandy. You can listen to the results here.
• Another public-radio interview here, with WICN of Worcester, Massachusetts.
•And, finally, the smallest victory of the bunch, but one I love: I spotted the book in the window of the Paul Smith store on Fifth Avenue in New York, where I am a regular shopper. Smith is, fittingly enough, known for his colored stripes—same as a certain photography company. Here's how INSTANT looked in the window: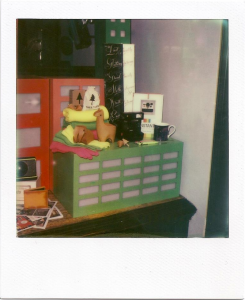 Of course I had to shoot it with a Polaroid camera. That's the Impossible Project's excellent new PX680CPF film, by the way.
LEGALITIES

This site is not connected with or endorsed by Polaroid or PLR IP Holdings, owners of the Polaroid trademark.