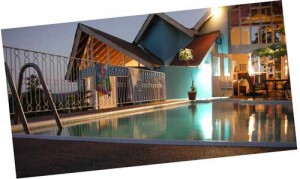 Anyone know anything about this? Reportedly, this vacation house in Jamaica, called Hummingbird Hill, was built for Edwin Land. The house's Website doesn't confirm it, and neither does anything Google pulls up.
If it's true, I have to assume that the house was mostly used by Terre and the girls, because Land had to be coaxed to take vacations—many, many stories revolve around his workaholism. But it does look mighty nice, particularly that corrugated zingy mid-century roofline.  I'd stay there—and in fact I can, apparently, because it's rentable. Not terribly expensive, either: $1,000 per week for couples, with services of caretaker, housekeeper, and cook included. If the book hits the best-seller list, I just might.
LEGALITIES

This site is not connected with or endorsed by Polaroid or PLR IP Holdings, owners of the Polaroid trademark.