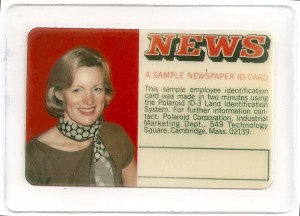 We had quite a week in the publicity division of Polaroidland: The list of media hits keeps on growing. (Once again: All hail Diane Levinson, admiral-class book publicist.)  Quick rundown of the past three days' clips:
A long, really nicely executed Q&A with me, done by Ira Boudway at Bloomberg Businessweek.
A straight-up review, quite positive, from Fortune.com.
A Q&A focusing on the Steve Jobs–Edwin Land parallel, at Wired.com.
A slideshow at Time.com.
There's a profile of book and author at the Independent (UK).
A post from the XX blog at Slate, and a slideshow drawn from the book in the Slate Book Review.
A teaser in Popular Photography (review to come in a few days, according to the post).
Cult of Mac has a little to say about the Apple connection.
Petapixel, the photography site, runs with the story of Polaroid v. Kodak, from the Wired story linked above.
And two from Gizmodo: picking up the post that The Atlantic ran earlier in the week, and adding a substantial book excerpt.
LEGALITIES

This site is not connected with or endorsed by Polaroid or PLR IP Holdings, owners of the Polaroid trademark.