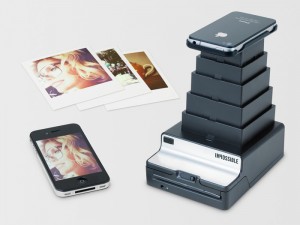 Been a busy week, and I am late reporting on Tuesday's announcement from The Impossible Project: a new product, financed through Kickstarter. It's part-and-parcel with Impossible's new camera, which has been in the works for some time, and thus far takes the form of (more or less) the bottom half of an SX-70/600-style camera: the motor, pick, processing rollers, and surrounding structure. Eventually, there'll be cameras built atop that base. This week's product announcement was a little simpler: a collapsible mount by which you can fit your iPhone to that base, and thus print your digital photos quickly and simply onto a sheet of analog instant film. It'll be $299 retail when it arrives.
I have to admit that it's not for me. I much prefer the other direction: shooting on analog film for its look, and then scanning for digital transmission. But apparently I am in the minority among Impossible's fans, because the Kickstarter goal was $250,000, and it was met in about a day and a half. Impossible is still raising funds; as I write this, the total is headed toward $340K with 25 days to go. A bunch of people have pledged more than $2,000 apiece. I'm impressed, and also delighted to see all that cash headed toward this little company with big plans.
LEGALITIES

This site is not connected with or endorsed by Polaroid or PLR IP Holdings, owners of the Polaroid trademark.