Probably about 1959.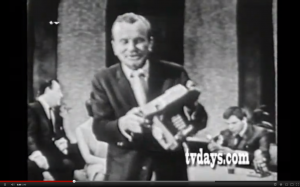 Polaroid, once a sponsor of Paar's show, used to have him do live demonstrations on the air, to show off their technology without a safety net. This is a still from YouTube's particularly antic example, mock-sabotaged by madman Jerry Lewis.
LEGALITIES

This site is not connected with or endorsed by Polaroid or PLR IP Holdings, owners of the Polaroid trademark.