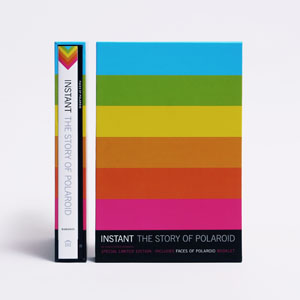 Recently, my friends at The Impossible Project arranged to offer a special slipcased edition of INSTANT: THE STORY OF POLAROID. The book is paired with a second smaller volume, Faces of Polaroid, for which I ran around New England photographing the people who, a generation ago, made this technology. (The photos were shot with an SX-70, on Impossible's black-and-white film.) Limited in number, gorgeous in production, that special edition is available for presale only through Impossible's Website, and it is a handsome, handsome thing, thanks to the designers at Princeton Architectural Press. (The slipcase is based on a rainbow-pattern pack-film box from the late sixties, designed by Paul Giambarba for Bill Field.)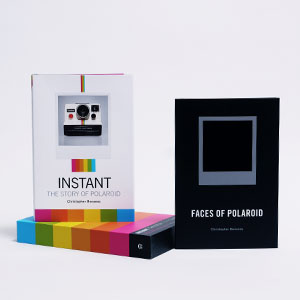 It really does celebrate this medium in a way that honors it: Gorgeous design and high production standards were a hallmark of all the printed matter Polaroid produced. I'm a little giddy just looking at this thing, and I hope you all like it as much as I do.
Preorder page is up, and I'll put a link on the homepage too.
LEGALITIES

This site is not connected with or endorsed by Polaroid or PLR IP Holdings, owners of the Polaroid trademark.