Screen-grabbed from P.T. Anderson's Boogie Nights, his great film about a kid making his way in the California porn business of the seventies. Polaroid cameras bob up a few times in the movie, because they're so distinctively of-the-era and, I think, because they fit so nicely with the material. (Private dirty pictures were, let's face it, a big part of the adult-entertainment scene.) There are a couple of moments where Anderson cuts on the burst of a Flashbar, shot so close-in that you can see the flare and fade of the individual wires within. He uses the motor sound of the camera, too.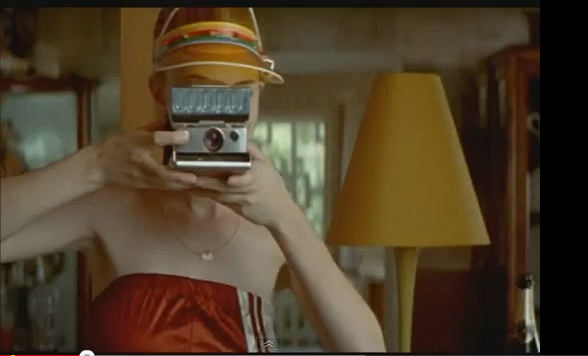 Link to the pool-party scene here,. No Pola-moment, but watch it for the fabulous several-minute almost-no-cuts-Steadicam shot, akin to Martin Scorsese's Copacabana scene in GoodFellas. Nice.
LEGALITIES

This site is not connected with or endorsed by Polaroid or PLR IP Holdings, owners of the Polaroid trademark.