Andrew Miller is the artist behind a project called "Brand Spirit." He chose 100 consumer objects, from a Remington bullet to a Barbie doll, and painted out their surfaces in pale gray,  removing all markings and logos. Then he photographed them against a matching background, so barely anything but their basic form registers. All 100 went up on his Tumblr site, and two of them are for sale as limited-edition prints from the inexpensive-fine-art site 20×200. And of those two, I had to have one: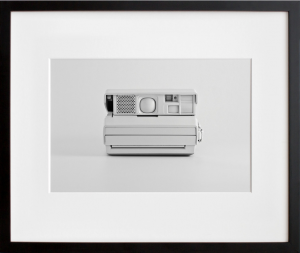 The series is meant to make us examine the ways we interact with consumer culture, of course. (The blanked-out can of Red Bull, turned into nothing more than a smooth cylinder with ridges at the ends, made me laugh out loud.) But this particular example also says something about obsolescence, bankruptcy, relic worship, loss. That camera was, after all, a machine for making memory physical, and sometimes making great art, and today it is essentially mute.
LEGALITIES

This site is not connected with or endorsed by Polaroid or PLR IP Holdings, owners of the Polaroid trademark.