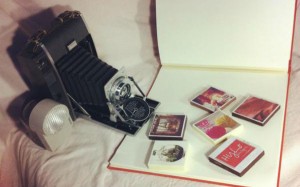 That's right, the Cocoagraph: a chocolate bar printed with a color photo, complete with white Polaroid frame. More about the company here. That's a Model 110A camera in the photo at left, so I get the sense that these people (or their photographer) are actual Polaroid enthusiasts.
The thing for me to do would be to put the book jacket on one of these. Or, of course, an actual Polaroid photo. Of  a Polaroid camera, even. Then take pictures of it. The chocolate would probably melt from sheer meta energy.

LEGALITIES

This site is not connected with or endorsed by Polaroid or PLR IP Holdings, owners of the Polaroid trademark.