In 1964, Polaroid commissioned the eminent Lowell Thomas—then in his latter days as an NBC News radio correspondent—to narrate a film that stumped for the company and taught dealers how to sell its products. It's a strange thing, by today's standards: You'd never see a journalist doing this anymore, certainly not one so prominent, because he'd get hit with conflict-of-interest criticism. (Also, you very quickly realize that his high-key radio delivery doesn't translate so well to the screen: He comes off pretty stiff and melodramatic.) But the film itself is weirdly compelling, at least here in Polaroidland: It's full of information about how the business of photo sales really worked, and makes reference to the forthcoming Model 180 and Swinger. Although the unique art-meets-science approach that defined Polaroid barely makes an appearance, you definitely get the sense of a growing company, on the move.
Side note: It also starts off with a brief aerial view of the main factory complex in Waltham, about which I've been writing here these past few weeks.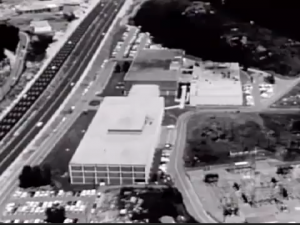 LEGALITIES

This site is not connected with or endorsed by Polaroid or PLR IP Holdings, owners of the Polaroid trademark.