The earliest Polaroid cameras were, as Edwin Land once said, "grand machines for a grand purpose." The original Model 95 weighed more than four pounds, mostly of brass and steel. (I suspect that the reason you still see a lot of them at yard sales and on eBay is that people don't like to throw away anything so substantial.) Their robustness made them durable, but it came at a cost to Polaroid's business: Nearly all the early buyers were men, because the thing was so damn big that a lot of women simply didn't want to lug it around. Polaroid's marketing people knew, too, that a lot of household snapshots were taken by moms.
To appeal to them, in 1954 Polaroid introduced a smaller camera called the Model 80. Here's what it looks like: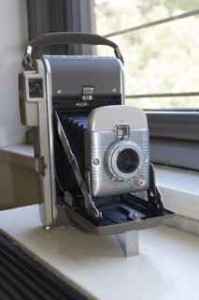 It was also marketed as the "Highlander," with a logo carpeted in plaid.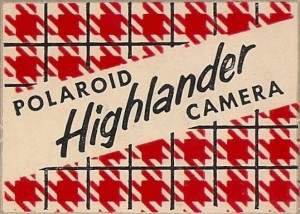 Judging by other cultural artifacts I've seen, this kind of name was often applied to products that were budget-priced. "Highlander" conveyed "Scotsman," and "Scotsman" conveyed "thrift." I vaguely remember Plaid Stamps, a discount system comparable to S&H Green Stamps, that carried the same connotation during my childhood. (Ethnic shorthand like this, common at the time, has—ahem—fallen out of favor. People are scunnered, as a Scotsman might say.)
Here's how the camera looks next to its overbearing husband: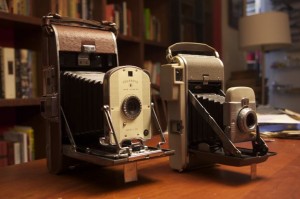 The difference appears modest, but when you pick the two up, it's obvious that the Highlander is much lighter, and it's a lot easier to wield, especially when you're holding it up to your eye. It made correspondingly smaller photos, too–2 1/2 by 3 1/4 inches, instead of 3 1/4 by 4 1/4. The film produced under the name Type 42 for the big cameras was called Type 32 in the smaller format, and Type 47 corresponded to Type 37. (Much more about Polaroid roll films here, at the Land List.) Otherwise, though, it worked the same way. The photos processed themselves inside the camera, and were removed through a door on the back after they developed.
The Model 80 was a success, and stayed in production until 1961. Along the way it got a couple of tweaks, so later examples are marked 80A and 80B. This one is a Model 80A that belonged to Eelco Wolf, a longtime Polaroid marketing and corporate-communications executive. He gave it to me when I visited him recently–he said he was happy to have one more bit of clutter out of his house, and I was just as happy to acquire it.
And since I can't resist adding to my own clutter, I recently found a matching accessory on eBay. Model 381 Shoulder Case, still in its box, never used. Nice heavy cowhide, burgundy corduroy interior, little elastic loop on the inside of the flap to hold your tube of print coater.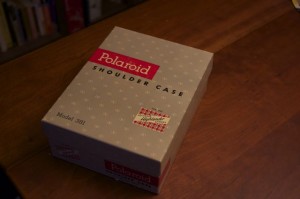 I'd love to try the camera out, but the 30-series films went out of production around 1980 or so, and any film that's still around is almost surely dry and dead. (If I ever find some in a fridge somewhere, I'll try it out. Unlikely to happen, even less likely to work.)
The case, however, will finally get out of its box and see some use. It turns out to be exactly the right size to hold a folding SX-70 camera and a pack of Impossible film, and the elastic doohickey will nicely hold the flash that Impossible and Mint have recently started selling. The only thing missing from this Shoulder Case, curiously enough, is the actual shoulder strap–it has a short handle, one you can't slip your arm through. Someone must've swiped it long ago.
LEGALITIES

This site is not connected with or endorsed by Polaroid or PLR IP Holdings, owners of the Polaroid trademark.