A successful day at BookExpo America! I am extremely happy to report that we had a great turnout at Princeton Architectural Press's booth, enough that we ran out of books while people were still waiting in line. I kept shooting photos of visitors and passing them out, and I hope nobody went home too disappointed. Huge thanks again to the P.A.P. marketing-and-PR crew (Katharine/Russell/Margaret/Diane) who made it happen. Diane was able to get an article about the event into the convention's daily newspaper, which is not so easy to pull off, so she gets extra thanks with whipped cream on top.  I couldn't be happier with the way the thing went.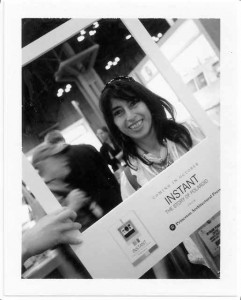 Sample photo at right, showing one visitor to the booth who inadvertently walked away without her picture. The white frame around her was Russell's awesome idea, one that I'm sure we will be using at future book events.
LEGALITIES

This site is not connected with or endorsed by Polaroid or PLR IP Holdings, owners of the Polaroid trademark.