Not earth-shattering technology, I grant you. But an extremely nifty little object: the Polaroid Instant Tripod, Model 2328, offered as an accessory in SX-70's heyday. There's a hanging loop, presumably in case some poor benighted soul chooses to keep it dangling from his belt. The head is a ball-and-socket arrangement, tightened and loosened by turning the key-like loop. Logotype is in News Gothic, of course, though the type's a little squished, and, in smaller letters, it says "Made in Japan." When closed, the whole thing is about the size of a pencil case, or one of those extra-compact automatic umbrellas.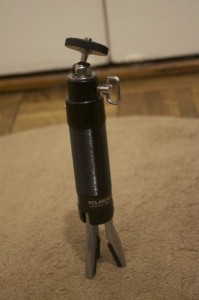 The umbrella analogy is apt, in fact, because when you press a little silver button near one end…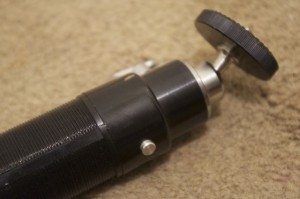 … three pronglike legs spring out with a snap, and you've got yourself a nifty tabletop tripod. Very stable and rigid, because the legs are fixed.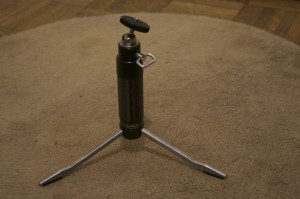 Fourteen bucks on eBay, and it's money well spent, if you ask me. I spent a solid five minutes yesterday just popping the thing open and closing it back up. Also, it's small enough to fit inside the camera case I often carry, or my work bag if I am traveling light.
LEGALITIES

This site is not connected with or endorsed by Polaroid or PLR IP Holdings, owners of the Polaroid trademark.