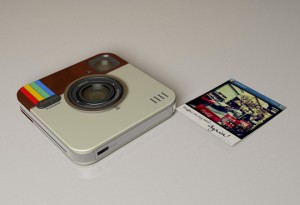 Those folks were kidding a couple of weeks ago, but a design outfit called ADR Studio has done a little design concept for an actual camera that looks just like the Polaroid-striped Instagram icon—and prints on the spot. With a white tab at the bottom of the photo, no less.
It's really just a design concept, with a lot of the details ill-thought-out (four teeny ink tanks in that thing? It'd have a capacity of about three photos per cartridge). And it ignores the fact that the snapshot camera as an independent device is on its way out. Unless you're getting serious about photography, your cameraphone is more than adequate, which explains the billion-dollar-ness of Facebook.
Looks fun, though. It would not be a bad thing for Instagram (or, now, Facebook) to make and distribute as a corporate gift.
LEGALITIES

This site is not connected with or endorsed by Polaroid or PLR IP Holdings, owners of the Polaroid trademark.