Sorry the blog has been quiet for a few days. I was visiting the real Polaroidland.
We're doing a special slipcased edition of the book, which will include a little extra volume of portraits of Polaroid people. So I was in Cambridge and its environs, snapping SX-70 photos on Impossible Project film. It was fun meeting a lot of the alumni, all of whom have had really interesting professional lives. I'll post more about it as the edition comes together.
And I made a little visit to the complex in Waltham where most of Polaroid's film was made. Built over several years, starting in the late fifties, it's an industrial ruin now. Of the four main buildings, one has been demolished, and the glass-enclosed bridge that joined two of the others is also gone. Here are buildings W2 and W3 (with bridge; it held the cafeteria) in 1960:
and here they are is this week. (The images with white borders were made with a Polaroid 180; the others were shot with an iPhone.)
And … well, I wasn't going to admit to this, but what the hell. I jumped the fence and went inside W2, and found something in there that floored me.
As many of you know, Polaroid had a side business in making museum replicas—giant photographic images of artworks, shot on Polaroid film the size of bedsheets, made in a room-size camera. Most were done at the Museum of Fine Arts, Boston, though a few were also made at the Vatican Museum. Quite a few hung around the Polaroid offices—I saw one when visiting Microcontinuum, a Polaroid spinoff company, last week—and one of them never made it out of the factory before the end. It's still there, glass broken out, completely trashed by rain and the elements. I would've tried to bring it home, but it's beyond saving. The blistered emulsion falls off the moment you touch it, and the thing is seven feet long–it wouldn't have even fit in my car. And, because I couldn't make this up, the scene is of the martyred Christ. (Update, 4/22/12: It is indeed one of the photos taken at the Vatican Museum: The painting is Rafael's Transfiguration, 1516-1520.)
I had to cheer myself up after that, and the next morning I walked to Memorial Drive, in Cambridge, which for several blocks has another name.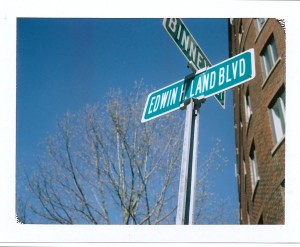 Stopped by a photo store in the neighborhood shortly thereafter, and when the clerk (an older guy) saw my Polaroid camera, he immediately said, "You're in the right neighborhood."
(Update, June 2012: Most of what you see above is gone. Click here for details.)
LEGALITIES

This site is not connected with or endorsed by Polaroid or PLR IP Holdings, owners of the Polaroid trademark.