Most Polaroid freaks know about Dr. Florian Kaps, a.k.a. "Doc," who is the guy more than any other who kept SX-70 and 600 film from disappearing forever. But there's another Doc who figures in Polaroid's history (and I don't mean Dr. Land, whose only widely used nickname, as far as I know, was "Din").
Dr. Harold Edgerton was an MIT professor, a celebrity in Cambridge and a minor celebrity elsewhere. (I remember first encountering him as the centerpiece of a PBS TV show, probably an episode of Nova, in the early 1980s.) Edgerton was the inventor of the electronic strobe that's at the heart of every camera flash today, and although you may not know his name, you almost certainly know Doc Edgerton's motion-freezing high-speed photos. The "Coronet" milk drop, from 1957, is his: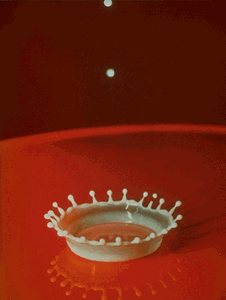 And so is the startled jack, reacting to a rifle bullet through his heart: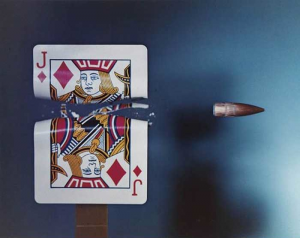 And he was also (you knew this was coming) an associate of Dr. Land's, and a well-known figure around the Osborn Street labs. In the Polaroid Newsletter of October 29, 1963, he appears, in a note about a recent demonstration of his strobes that he did for Polaroid's photography club. (There aren't a lot of companies where in-house hobbyist groups get tutoring from legends.)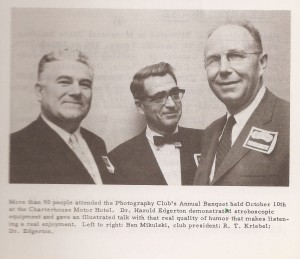 As for the other two guys who posed with him, I didn't find anything in my research about Ben Mikulski, but I do know that Richard Kriebel was a major figure in Polaroid's early history. He joined Land-Wheelwright Laboratories in 1935, and was the man who carried out Land's lofty personnel policies, hiring women for significant jobs when other places did not, broadening benefits and perks when they could've gotten away with less. He stayed with Polaroid in various capacities till 1969, ending up the director of public relations, and died in 1990.
As for Edgerton, he too died in 1990 (a few weeks before Kriebel did, as it happens), and is a legend around MIT. You can read lots more about him at the Edgerton Digital Project site.
LEGALITIES

This site is not connected with or endorsed by Polaroid or PLR IP Holdings, owners of the Polaroid trademark.