'Instant Love: How to Make Magic and Memories With Polaroids'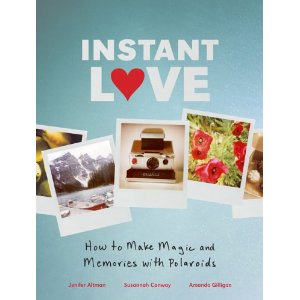 I must admit that, when I found out the other day that there's another Polaroid book coming out this year—from the sister company of my own book's publisher, no less—I briefly freaked out. Once I calmed down, I discovered that it is a very different project—a complement, not a competitor, to mine. (It even appears to include some stuff I wanted to have in my book and couldn't. The tyranny of hitting your word count.) So: thumbs-up, and whew.
Instant Love (no relation to Jami Attenberg's excellent novel, by the way) is an instructional volume, devoted to getting the most out of your instant camera, using the range of film and equipment that we diehards have available to us today. It looks to me extremely accessible—the sort of book that both gear-obsessed photographers and scrapbooking kids will find helpful.  More about it here, from co-author Susannah Conway; Amazon link to buy here. More about it once the pub date rolls around in May.
LEGALITIES

This site is not connected with or endorsed by Polaroid or PLR IP Holdings, owners of the Polaroid trademark.