Well, they weren't all great products. This is the Polaroid JoyCam, produced in 1999.
In 1995, Polaroid got a new chairman, only its fourth in 60-odd years. His name was Gary DiCamillo, and he was the first outsider to run the company, having come in from Black & Decker. He arrived with an entirely different philosophy from his predecessors, calling for lots of fast product development rather than basic research—he said he wanted 20 to 40 new products a year to go out the door, to amp up the company's metabolism, and it was a somewhat defensible position at the time, if a shortsighted one. Most of those products were not successful; the idea was to throw them all out there and see if anything took off. One of them, in fact, did–the tiny-format i-Zone camera for kids, and although it did not blow up quite big enough to keep Polaroid out of bankruptcy, it was a genuine hit. Then there was the JoyCam.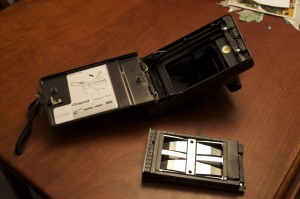 It's probably the crummiest camera Polaroid ever made. It used Type 500 film—the small-size integral-film cartridge created for the failed Captiva camera of the early 1990s. Until this era, Polaroid hadn't really got into exporting its jobs, apart from one camera plant in Scotland and some film factories overseas. This baby, though, was the advance guard in the march to make everything in China. I think it sold for about $20, and it had a flash, so I suppose you got what you paid for. It is lightweight, I'll admit that.
Arguably the worst design aspect of this camera is the picture-ejection system, which involves pulling a ratcheted strip to pop the photo out, since there's no motor. But that strip has a loop handle at the end, which you'd naturally grab to carry the camera, and if you were to tug on it too hard, you'd waste a picture. Ridiculous.
My favorite awful detail—pointed out by Marty Kuhn, over at the Land List—is that the hinge holding the back door onto the camera is not metal, not plastic, but a paper sheet: the instruction sticker on the back of the camera. Tear the paper, and the door falls off.
Put this next to anything else Polaroid produced—even the cheapest packfilm cameras of the seventies, or the humblest boxy OneStep descendants of the nineties—and it makes those look like Leicas. (Say what you will about the Swinger or the Super Shooter: They were well-finished and took decent pictures. They were inexpensive but never cheap.) The JoyCam looks more like the disposable packaging of a consumer product rather than the actual thing that package ought to contain.
The odd name "JoyCam" apparently first appeared in the Japanese market, possibly on a different model, and it does have that curious-to-English-speakers quality that many Japanese product names have. Why it was then used in the U.S., I have no idea. Why this was sold is slightly more evident—massive cost-cutting, plus the desire to get someone, anyone, to buy Type 500 film. Didn't get anywhere; Type 500 went away a few years later, because a significantly smaller picture from a camera that was barely smaller than the standard 600 model was no bargain.
I own mine because of an odd project back in 1999 at New York magazine, where I work. We were doing an enormous survey of takeout restaurants in New York City, and an editor in each neighborhood was instructed to order in every night for a few weeks and rate all the meals. We were each given a JoyCam with which to document each delivery. Last gasp before digital (not to mention before SeamlessWeb, Yelp, and the rest of the online food business). I remember nothing about the project except that (a) most of the food was pretty bad, (b) everyone in the office was expecting to enjoy the freebies but turned very grouchy after a week of strictly dictated takeout meals, and (c) I did discover and recommend a good and inexpensive sushi place, which has since gone out of business. Power of the press, hah.
LEGALITIES

This site is not connected with or endorsed by Polaroid or PLR IP Holdings, owners of the Polaroid trademark.