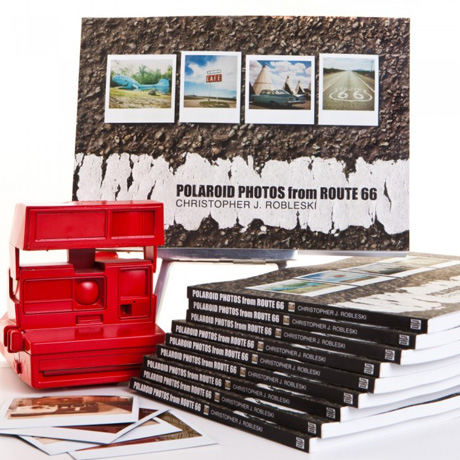 Just discovered a pair of fellow Pola-enthusiasts in Chris and Katie, proprietors of Fading Nostalgia. Their latest project is a book of Polaroid photographs taking along the Big Road: Route 66, highway of mid-century vacation dreamers turned open-air museum of dusty, disappearing Americana. Needless to say, it's perfect fodder for Polaroid film, itself a vanishing medium (as well as Impossible Project film, which they used for part of the project). Also, the Polaroid color palette—saturated color, soft greens, that unique blue dye—is a curiously excellent match for the sun-bleached signage of Route 66.
It's a self-published project, and you can read about it and order here. I'm doing that now.
LEGALITIES

This site is not connected with or endorsed by Polaroid or PLR IP Holdings, owners of the Polaroid trademark.