I recently bought myself a Polaroid rollfilm camera that had been converted to take packfilm. Several services started doing this modification after the final Polaroid rollfilms (Type 42 and 47) went out of production in 1992; the most prominent modders were a company, now gone, called FourDesigns. The conversion required some cutting and machining of the camera back, plus the removal of its internal roller plate, which had the advantage of making a heavy camera noticeably lighter. It was expensive, so most were conversions of only the high-end Pathfinder series, a.k.a. Model 110, 110a, and 110b, sold from 1952 to 1964. Mine is a hybrid, with a 110 front end and a 110a rangefinder/viewfinder on top.
Now that packfilm is on the extinction list, those old conversions are about to get less useful. But I bought this camera for a reason: I recently discovered that Instant Options, a camera-modification business run by a guy named Nate in Florida, converts Pathfinder cameras to take Instax Wide film. (I have read that he's effectively the successor to FourDesigns, having acquired their stock of parts after they closed down.) That interested me greatly, because Instax Wide film is readily available and fairly cheap, and seems likely be in production for quite some time to come. (Fuji introduced a new Instax Wide camera this year, strongly suggesting that the film's here to stay indefinitely.) The Instant Options conversion from an unmodified Pathfinder camera is expensive, but if your camera has already had a packfilm back installed, it's a lot less: He charges $175 plus shipping. I sent mine off to have it converted, as a Christmas present to myself, and got it back a few days ago. I've been shooting with it since then, and I am delighted.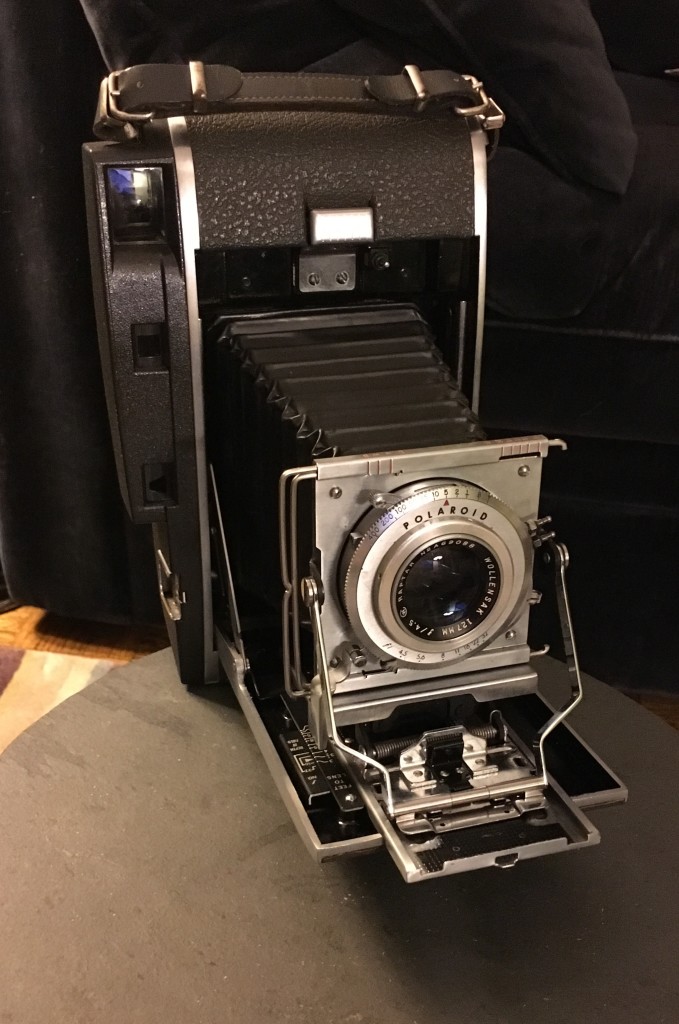 Here's a pair of views where you can see the modified back.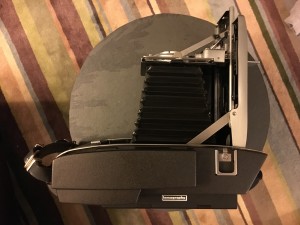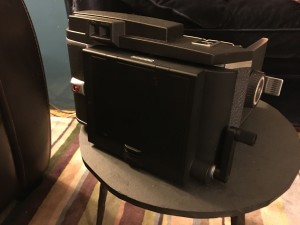 Now, do not misunderstand me: There are drawbacks to this thing. A Polaroid rollfilm camera is a bulky, awkward object, awkward in the hand. My brother-in-law saw me shooting with it, and said, "It's like you're coming at them with a toaster." The Instax back makes it even more awkward, because you have to crank-eject the picture while holding a release switch. You can't shoot with it very quickly. You also can't really use it on a tripod, because the hand crank bumps into the mount, so you'd have to remove the camera from the tripod to process each photo. But there is most definitely an upside, and it's this. Instax film is superb, but Instax cameras have mediocre lenses. The Pathfinder, by contrast, has a premium f/4.5 lens, made by Wollensak, with full manual settings and a fine mechanical shutter. In other words, you're taking film that is never really used to its full potential and putting it behind much better optics than you'd otherwise get.
The resolution and crispness of the couple of dozen pictures I have taken this week astonish me. Take a look at this one. (No flash, using available light in  a restaurant. Instax film is rated ISO 800, nice and fast.)
Now look at this closeup of the waffle-weave shirt. (Please ignore the lint, which is there because I didn't clean the scanner glass.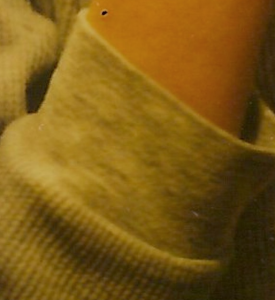 It has none of that plastic-lens muckiness that you get with point-and-shoot cameras.  That picture is sharp.
I could not be happier with Nate's handiwork–the job he does is quite neat and refined–and I have been toting this absurd object around throughout the holidays and every day this week. (In case you were wondering: I paid full fare, and this post is not any kind of discount-wrangling or payback or anything nefarious like that. Enthusiasm is my only motivation here.) He will hot-rod your camera with bright-purple leather or whatever other pizazz you desire for a small upgrade fee. I stuck with the standard dark-gray Polaroid covering, because I am a dark-gray kinda guy.
Highly, highly recommended: Click here to get your own conversion done.  I plan to rig up a shoulder strap soon–probably dark gray–so I can shoot with mine more easily on the New York streets come summer.
LEGALITIES

This site is not connected with or endorsed by Polaroid or PLR IP Holdings, owners of the Polaroid trademark.